Our meals are packaged in 2 sizes - Single and Double.
Hungry Single (serves 1 - 2)

is our large portion individual meal size. Generally, the prepared portion is 2 cups, at least 50% larger than the "single" size commercial camp meals. We developed this size for the voracious thru hiker appetite, or for one adult engaging in moderate to strenuous activity. It will feed two adults will smaller appetites.
Hungry Double (serves 2 - 3)

is our large portion double meal size. This size will feed 2 individuals with very large appetites,

or engaging in moderate to strenuous activity.

The prepared portion is generally 4-5 cups. This size is exactly double the Hungry Single size.
Hungry Hoarder (bulk)

contains 6 individual packages of our Hungry Double (2 - 3 servings) meals, grouped together and sold "bulk." This is the perfect option for long distance thru hikers/groups looking to save money or keep food aside for later use.
We know camp meals are expensive, especially those made with organic and less processed ingredients. In an effort to make them more affordable for you, we spend less on marketing and packaging. This brings you better ingredients and a higher yield of food. Bon Appétit!
Vegan Cheddar Mac Packaged
(Hungry Single Meal Size)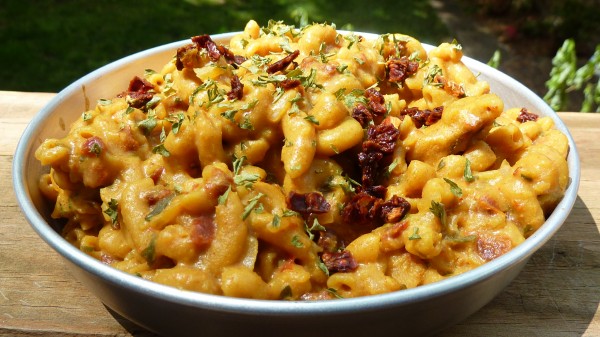 Vegan Cheddar Mac Prepared

(Hungry Single Meal Size)